kybun trial shoe Nyon Black
Women
Tax included.
Shipping
calculated at checkout.
---
---
The Nyon black: practical, modern and yet discreet. After an initial lacing, the zipper turns the kybun shoe into a slipper. The modern style, in subtle black and white, goes well with jeans as well as sportswear. The Nyon black is the perfect air-cushioned shoe for daily use in leisure or for a pleasant city stroll.
Nyon Black W: stylish and good for you
Item No.: AW069A
Available sizes: EU 34 1/3 – 43
Upper: Faux leather, mesh-polyester fabric and microfiber
Lining: High quality 3D mesh with anti-bacterial treatment
Insole: High quality 3D mesh with anti-bacterial treatment
Sole: PU
The correct shoe care for your kybun shoe Returns / Size exchange
---
* Try kybun shoes without obligation – this is how it works:
Order a pair of kybun trial shoes for 2 weeks and experience the unique walk-on-air feeling. Trial shoes are classified as B-goods with a small defect that is often not even visible. They may have been worn before, but in this case are professionally cleaned and disinfected. The purpose of trial shoes is to allow the customer to experience the unique feel and great advantages of a kybun shoe before buying. We charge your payment method with a £20 trial handling charge plus a refundable deposit. At the end of the trial you have 3 options:
Return the shoes to our warehouse in Laceby (UK) and order a new pair. You receive a reduction on the regular price plus free shipping.
Keep the shoes. We retain the handling charge + deposit and the shoes belong to you.
Send the shoes back to our warehouse in Laceby (UK) and we refund your deposit.
---
Springy like on a trampoline
The kybun shoe will impress you from the very first step. Just like on a trampoline, it provides you with a relaxing and training effect all in ONE! The elastic springy sole trains and relieves your body at the same time. Put on your kybun shoes and start walking, enjoy the unique feeling and benefit from an integrated training experience.
The elastic springy trampoline effect offers the best quality and healthiest exercise you can find! As with the vital elements in nutrition, the trampoline effect is the primary source of your exercise. Depending on the selected style, the sole has a more intense (higher rebound-effect) or lighter (lower rebound-effect) trampoline effect.
---
Foot sensor technology
The kybun shoe's flexible, cushioned trampoline sole allows your feet to feel every detail of the ground, which stimulates the health-promoting receptors in your feet.
Air-cushion sole
The unique kybun sole consists of specially developed multi-component polyurethane (PU), into which many tiny air bubbles have been sealed. This elastic springy air pad enables optimal cushioning.
Heel cushioning

Elastic & springy

Perfect pressure distribution
---
Made in Italy - Montebelluna
The kybun trial shoe Nyon Black is produced in our own production facility in Montebelluna near Venice, Italy. We manufacture the Swiss air-cushion shoe and its elastic springy sole largely by hand, using a process that includes up to 40 different steps by a dedicated workforce of skilled shoemakers and kybun's Swiss high-tech sole robot. Both production facilities (Switzerland an northern Italy) follow the exact same manufacturing processes.
---
Stratus sole - Your mini-trampoline
The kybun trial shoe Nyon Black has a Stratus sole and therefore a higher Rebound-Effect. The Stratus sole is the kybun standard sole since 2016. This type of sole offers maximum effect as well as the ultimate in training performance and absorption. The foot pressure is evenly distributed and the power supply is optimised. The elastic and springy material compensates poor postures and misalignments by stretching the posterior muscle chain with each step and the full-length sole profile with larger contact area to the ground ensures optimal grip on any surface. 
---
Foot climate system
The airy honeycomb structure of the kybun shoe creates an air-cushion between your foot and the ground. Every step pumps a fifth of the air volume into the foot space to cre­ate a comfortable shoe climate.
---
Surefooted! Lab tests confirm slip resistance
The slip resistance of the kybun soles is backed up by precision laboratory testing in the USA.
See the results
---
---
---
Customer Reviews
Write a Review
Ask a Question
11/25/2022
L-M D.

United Kingdom
Kybun trial
Love my Kybun shoe and have recommended to friends
08/26/2021
Juliet W.

United Kingdom
My second pair of Kybun
Brilliant - as when I purchased my previous pair. The Nyon Black are stylish and comfortable. And most importantly they are now essential to my walking, posture, joints and muscle tone. I mentioned on a previous review that a twisted spine was causing me extreme walking difficulty. Only a couple of years ago I would jog every morning until health stopped me. Now, after two months of practically continuous Kybun wear I'm improving every day. I attribute this to the Kybun footwear. I have also bought another pair (men's trial sandals) to use in the house. In short they are essential to my physical well being. And mental too as exercise has always been a major part of my life, and now I'm able to walk distances again I'm so thrilled. Thank you Karl Müller for you amazing footwear.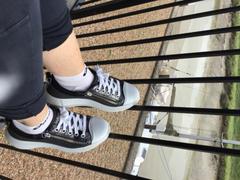 02/07/2022
Sarah W.

United Kingdom
Zero style but good for walking with plantaar facititis
Having worn kybuns for 3 yrs my plantaar facitis has improved so much, I am now looking forward to wearing shoes that do not look orthopaedic. It astounds me how even a shoe like Nyon Black looks clumpy and ****. The white toe cap is too high, which makes the shoe look heavy. Good for an injured foot though.